The library has excellent WiFi throughout the entire building. Whether you are working on your laptop or downloading books to your eReader, WPL's WiFi is there for you!
Public Computers
The library has 8 public computers available for our patrons. They are available on a first-come, first served basis. There is a 30 minute time limit on the internet per day, with an extended 30 minutes when available. Stop by the circulation desk to get an access PIN number.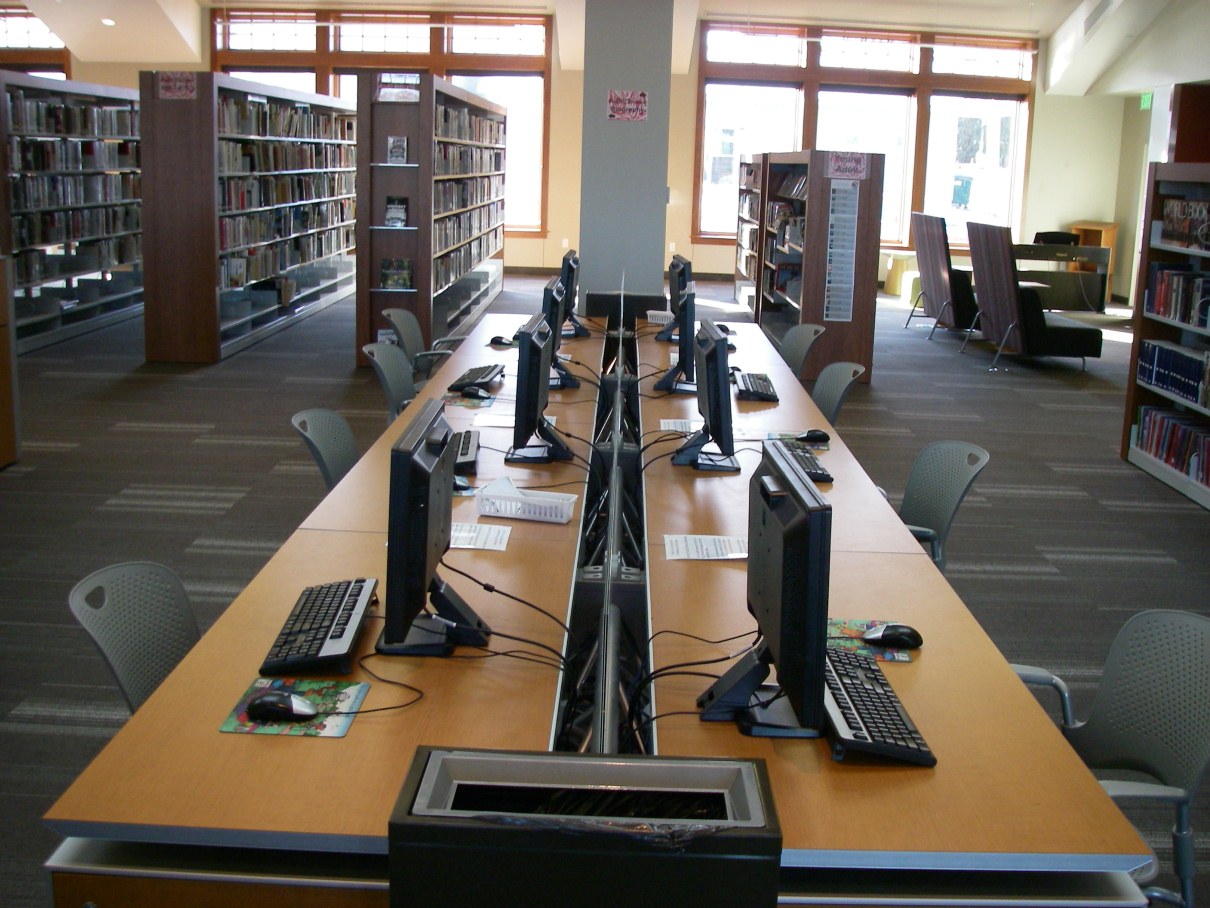 The Williamsburg Public Library (WPL) has no control of the internet and its resources, and assumes no responsibility for the quality, accuracy, or currency of any internet resource. One should question the validity of the information found on the internet.
RESPONSIBILITIES OF USERS
Internet resources accessible through the library are provided equally to all registered WPL patrons.

Children have access to the same resources as adults. As in book selection it is the library's policy that parents or legal guardians must assume responsibility for deciding what resources are appropriate for their children.
STAFF ASSISTANCE
Staff will assist patrons in accessing the internet; however, the library staff cannot provide in depth training to each patron. Staff will try to answer basic questions or help with locating resources on the internet. There are also internet related materials available in the library.
PRIORITY OF USE
The internet is available on a first-come, first served appointment basis. Patrons are encouraged to call ahead to reserve time or to see if the public access station is available.

Library staff will have priority for computer use. Internet for school or business will take precedence over recreational use.
TIME LIMITS
There is a 30 minute time limit on the Internet per day, with an extended 30 minutes when available.

Please be considerate of others waiting to use the public access station. Library patrons may be limited to 1 hour per day computer use during the busy hours.

Patrons must request a computer pass to access the Internet.
ETHICAL USE
There are information resources which are inappropriate to a library setting. Because the library is a public place, library staff reserves the right to end an Internet session, when such material displays on the screen.

The public access station and the internet may be used only for legal purposes and may not infringe on any copyright and/or license agreements.
EMAIL
WPL does not offer email accounts. Internet relay chat and other protocols not supported by the browsers are not available.
PRINTING
The printer is available for patron use at $.10 a black & white printed page, $.50 a color page.
DOWNLOADING
Patrons must have their own memory sticks in order to save files from the internet.
There will be absolutely no downloading to the computer's hard drive and no one will be allowed to place personal bookmarks on the system. Keep in mind, too, that software downloaded from the internet may contain viruses and users should have virus checking software on their computers. WPL is not responsible for damage to a patron's disk or computer, or for any loss of data, damage, or liability that may occur from patron use of the library's internet services.
Misuse or abuse of the library's computer will result in suspension of Internet access/computer privileges.
Persons using this equipment agree not to make any changes to the setup or configuration of the software or hardware.
Unlawful activities will be dealt with in a serious and appropriate manner.
By using the internet at Williamsburg Public Library, I agree that:
I have read the policy concerning the use of the Williamsburg Public Library's Internet computers and agree to abide by the policy.
I agree to pay any repair or replacement costs of equipment or software damaged by myself and minors for whom I am responsible.
I understand the library is not responsible for any damage to personal disks to system malfunction or any other reason.
I understand that copyright laws restrict duplication of copyrighted software and I will follow copyright laws.
I understand that if I fail to abide by the Internet policy I will lose eligibility for use of the library's computers.